Sometimes the best weddings are the simplest! John & Michelle only needed an Emcee and DJ for their night at Casa Bianca–and the reception was a ton of fun! With Bill Delaney as the emcee and Patrick Boyle as the DJ, Golden Note Entertainment had the young couple dancing with their huge bridal party and guests non-stop.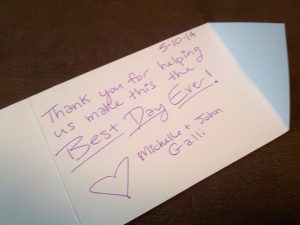 When John and Michelle entered the room to Turn Down For What, the room exploded with excitement! And it only made sense to end the night on the same high note that it started. In between, a dollar dance, touching toasts, and an awesome garter catch by Michelle's sister highlighted the evening.
We at GNE believe that the right music can make any event perfect, even without extra lighting or plasma screens. We think we proved it for our bride and groom!
John & Michelle — thank you so much for allowing Golden Note Entertainment to entertain your family and guests! We hope we made your evening perfect!