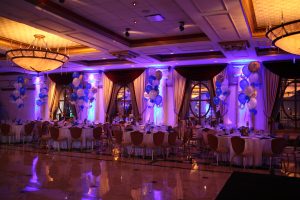 Allow us to make your ballroom "pop" with excitement!  Imagine ten or more LED lighting fixtures strategically surrounding your room, allowing us to control the color scheme and creating the perfect ambiance that you want.  If you choose, we can change the color of the room to match the bridesmaids' dresses or just make it your favorite color.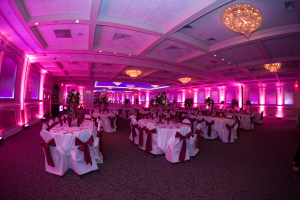 Want a more nightclub or lounge feel?  How about an even greater degree of elegance for your wedding?  Intelligent lighting allows you the freedom to do either or both. We can control the color schemes, patterns and speeds of the lights to give you the exact effect that you want for your wedding.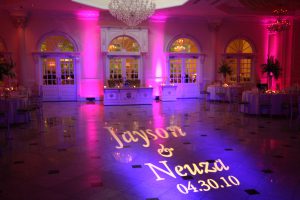 Immediately wow your guests as they enter your ballroom to see you and your groom's initials or name in bright lights on the dance floor with our Gobo Projector Package. Customize Gobo for any event with name, date, message, or even a company logo. Gobo Projectors are a great way to brand your event.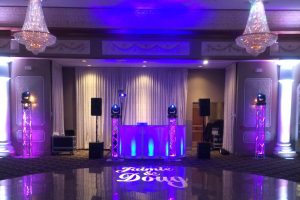 Golden Note's Titanium Towers lighting package is the latest addition to our lightscaping line. This theatrical quality service provides the perfect ambiance and flexibility that intelligent lighting has to offer. It works perfectly with our Reel Memories screen package and LED Uplighting. No matter what your lighting desires are, The Titanium Towers lighting package is your perfect choice.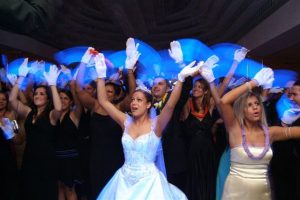 The lights go dim…the room is dark…and now it is time to party!  Our black light show is an amazing way to make your wedding rise above all others.  The equation is easy.  Take a dim room then add our black lights then sprinkle in some white gloves and other black light sensitive favors.  Have our creative and interactive Emcees mix these all together and you have yourself a unique experience.
Make your memories immediate!  With our simulcasting package, you can have your entire event projected right onto our enormous eight foot screen or two fifty-five inch LED screens making it possible for everyone, everywhere to see what is happening on the dance floor throughout the event!  We will also have a photographer there taking snapshots throughout the evening. These images will be shown towards the end of the event, as an instant replay of your special day.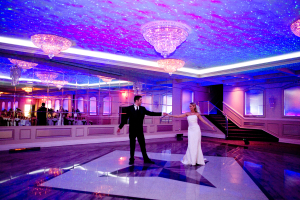 Turn your event into the ultimate fantasy.  Imagine the elegance of your first dance as husband and wife under a blanket of stars.  Allow your guests to experience the same throughout the night.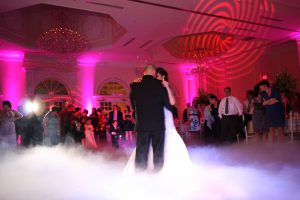 Your fairytale day won't be complete without sharing a dance on the clouds.  With our low lying fog system, you can do just that.  This is not a smoke machine, it's a dream machine.  The fog effect does not reach more that 18 inches off the ground.  For a moment you are not on a dance floor, you are floating over the clouds with your husband or wife during your first dance.  This moment that can never happen again, will never be forgotten.  Add the Dancing under the Stars effect and you can turn your event into a dream come true!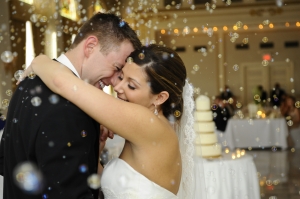 Bubbles?  What is so great about bubbles?  Right now you are thinking, "At a wedding?".  Exactly! We can use it for a grand entrance or for your first dance.  It's new, It's different and it leaves an impression.  What more could you ask for?  You have to see it for yourself.
Great Music
Every wedding needs great music. No matter what, we'll keep your dance floor alive.
Bright Lights
Give your event the perfect color. Make your wedding burst with light and energy.
Fun Memories
Preserve your favorite moments. Our photo lounges guarantee a party you'll never forget.
Visit Our Live Showcases
See our products. Meet our team. Join our family.