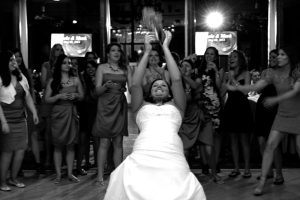 Even when our clients book us to DJ over a year in advance, there is nothing we can do about the weather. Thankfully for Nicole & Mark, their ceremony and reception with Gerry (as both their Emcee and Officiant!) wasn't interrupted–although all of New Jersey was cloudy and overcast, it certainly didn't make their sand ceremony in the gardens of The Manor any less beautiful! Gerry's ceremonies are always quick, sweet, and personal; in this case, it guaranteed nobody got rained on!
Once everyone was inside, the partying started! Now, it might seem odd to have a lot of extra entertainment at a venue like The Manor where the decor is much more classic than contemporary, but with the right placement and lighting, even plasma screens and titanium towers can look classy alongside rich mahogany walls. And Nicole & Mark wanted a lot of GNE's entertainment! Our titanium towers and LEDs added a lot of dynamic color throughout the night. Our photobooth, tucked neatly against the wall adjacent the bar, had people in lines waiting to jump in, keeping Anthony very busy. The bride and groom also chose to set up a video photo album with us as part of our Reel Memories package, and Patrick took photos during the whole event (see the gallery below).
Of course, Gerry and Mario as the Emcee & DJ respectively had them dancing all night!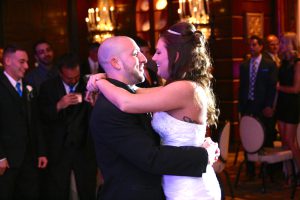 Nicole surprised Mark, an MMA fighter, with a Groom's cake with a bench press cake topper! Small, sweet touches like this, and the fact that the bride and groom were smiling and affectionate all night proved the Maid of Honor's comments during her toast: Mark and Nicole are perfect for each other, and the Maid of Honor hopes to find love like they have. We at Golden Note Entertainment hope everyone can!
Nicole & Mark, thank you so much for allowing Golden Note Entertainment to take care of you and your guests! This party was amazing!