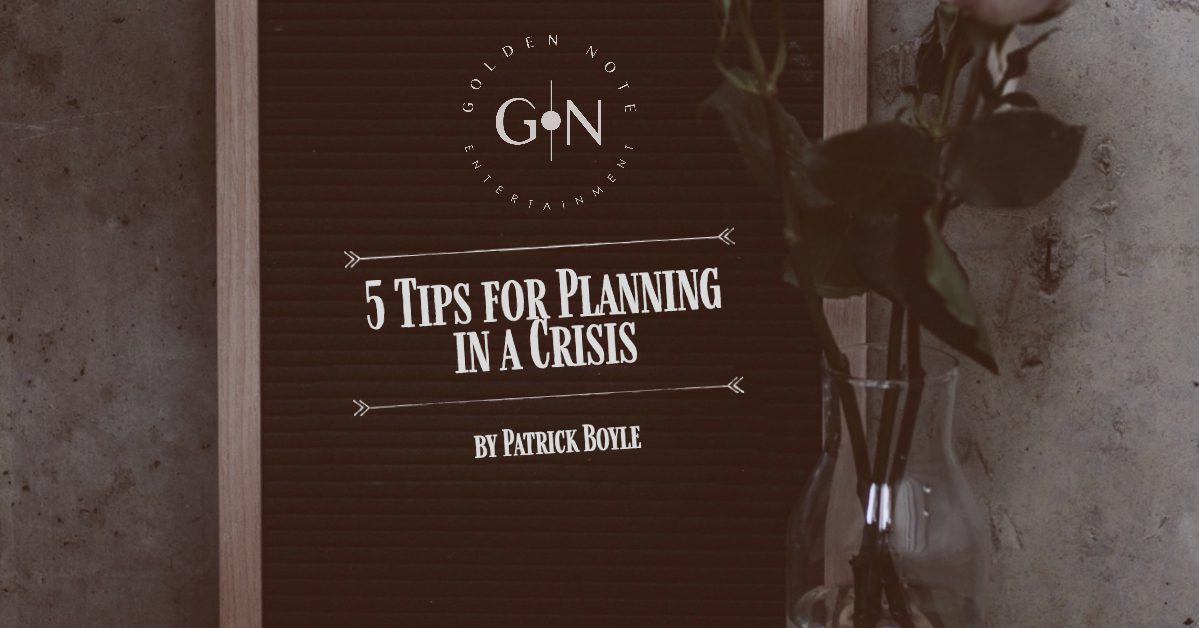 Erik Kent of NJWedding recently hosted a discussion about how couples are handling planning and rescheduling their weddings through the current crisis with the coronavirus. As gatherings are being shut down, businesses are closing, and people are being told to stay home, how can couples effectively handle the situation? Since I was able to observe and participate in the conversation, here are the best tips that I have for planning in a crisis.
1) Communicate with Everyone
Communication with all the main actors in your wedding planning is key. Start by talking to your venues and vendors. Nobody is holding events right now, so we're all ready to take your call. Most venues are offering a handful of dates for rescheduling. Use these to find the best fit with your other vendors and schedule accordingly.
Right now it seems that weddings from mid-May forward are within an anticipated safe period, but you should consider rescheduling on a case-by-case basis. Talk to your families and individual vendors for the best advice. Venues will have the best advice as to whether they expect to open their doors at that time, but also use this time to talk with your family and friends too. Find out how they are anticipating their lives might be and their concerns as we enter a few more unpredictable weeks and an equally unpredictable summer.
2) Consider Your Marriage License
If you've already acquired your marriage license application, this is important: In New Jersey, your marriage license application is good for up to six months from the day the state accepted your initial paperwork. Extensions can be given for up to one year. Contact the Board of Health where you acquired the application if know you need an extension.
Having to reschedule your wedding also means losing your date. If being officially and legally married on a particular day is important to you, talk to your officiant to potentially setup a "micro-ceremony" in the meantime. To do this, you'd only need yourselves, an officiant, and two witnesses. You can always have a symbolic ceremony on the day of your wedding.
3) Let Your Guests Know with a Change the Date
If you are actively rescheduling your wedding, Change the Dates are becoming popular. If you need to be budget-conscious, then you may want to consider sending them digitally. Plenty of stationary companies are offering digital designs that are inexpensive and look awesome. However if you've already sent your save-the-dates and invitations by mail, it might be more convenient to send another piece by mail rather than trying to collect emails for all your guests (if you don't already have them).
Getting the word out through a few platforms isn't a bad thing. You may want to send a few emails to your closest friends and family. A Facebook event for your rescheduled date might be a good way to spread the word too. Realize that as your schedule changes, so will others' so you're likely going to lose some of your guests. Even outside of a global pandemic, some people just won't be able to make it. To mitigate this, consider who your guests are: Older guests who can't risk exposure? People who need to rearrange travel? If you reschedule farther out, they will be more likely to accommodate the change.
4) You May Need to Find New Vendors
For wedding vendors, it is imperative that we work regularly in order to pay our bills (like anyone else). This means our schedules can be pretty full as we enter busier seasons. Anticipate that some vendors won't be able to work with you on your rescheduled date, especially if you push into the last third of the year (Sept – Dec).
Already vendors are promoting themselves to couples who are struggling with planning everything. If you really love a vendor but need to end your contract, see who they might recommend as a sufficient replacement. You may have a greater chance at retaining the quality you expected from your original vendor.
5) Remember that Weddings, Like All Things, Aren't Perfect
We all do our best to prevent as many problems as possible. Things still happen. Torrential rain, heat waves, construction traffic, car accidents…any number of problems get in the way of "perfection" on the most regular days. It's hard to assign blame and worse to stress about what cannot be controlled. On my own wedding day it was almost 100 degrees outside (at the end of a fairly mild week otherwise) and we had an outdoor ceremony with no shade. But on the bright side? We had really good air conditioning in the venue, and it ended up raining every day for the rest of the summer. Yes, some guests…almost passed out. Yes, I completely sweat through my suit. Yes, my wife's dress was practically stuck to her body. But I had an incredible wedding despite it all.
Try not to sweat the small stuff. There are worse things in the world than the few bumps in the road we may suffer. You will get through this and the best of us in the industry are here to help you.
***
Click here to find the discussion which sparked this post. And be sure to visit NJWedding.com as you continue planning! They are an immense resource for weddings in New Jersey and can provide a lot of unbiased expert advice as you navigate this unpredictable time.