Make Your Wedding Noteworthy
Your wedding is once-in-a-lifetime.
When looking for a DJ, you want more than someone who can simply "press play." You want to be confident they'll listen to you. You want to trust them. You want to know the person you've hired is professional but feels like family.
We cater to all types of ceremonies and receptions. Whether you are in New Jersey, across the country, or on another continent, we can be there. Whether you are looking for traditional or contemporary or just unique, we've got you.
There is a reason we call our clients The Golden Note Family. Our mission is simple: have fun with you, play great music, and care about every detail of your day like you're one of our own.
Let's make your wedding noteworthy.
Online Planning Portal
Our online planning portal makes it easy and convenient to lay out all the details of your wedding. It's easy to add music requests, vendor information, and so much more. Need song suggestions? Look through all of our suggested song lists. Are we coordinating your ceremony too? All the forms you need to keep track of your day with us will be available to you.
From important information about your day to all the music you want (and don't want) to hear, no detail will go unnoticed.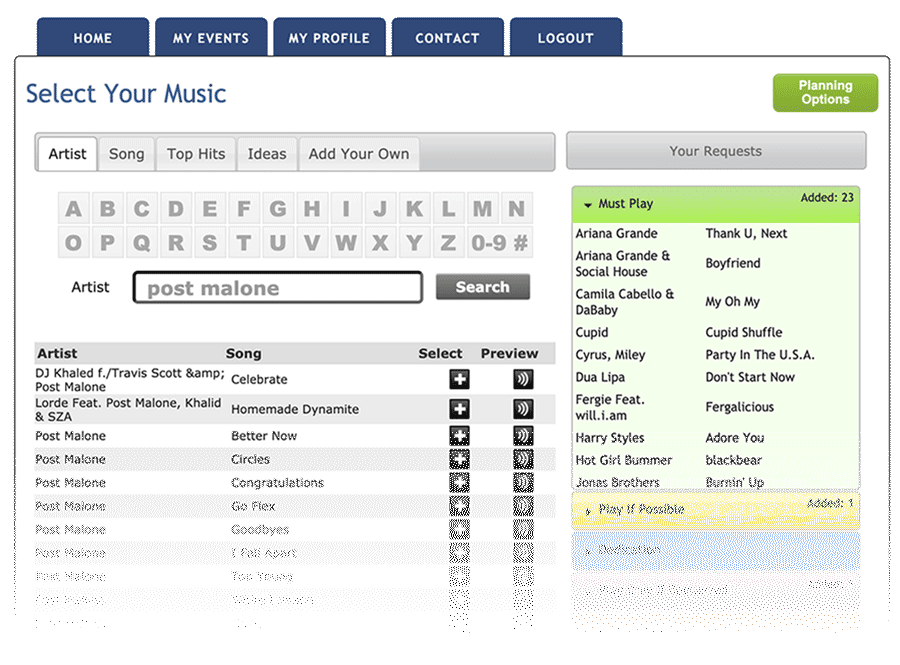 Ceremony Services
We work hard to make clients' weddings fun, elegant, and special. We apply the same effort and style to our ceremonies. Whether you need live musicians, prerecorded music, or officiants, adding any of our ceremony services to your wedding is simple and effortless.
Since the ceremony is the most important part of your special day, it should be handled with care. With multiple experienced officiants on staff, all of them are fully prepared to work with you to craft a ceremony that fits you.
Live Showcases
When you are considering booking an entertainment company, some of the questions you may have are "What kind of MC are you?" "What kind of music will you play?" "How will you make my party memorable?" A great place to ask these questions is at a live showcase!
Come to any of the bridal and wedding showcases we perform at monthly. There you can speak to our DJs, schedule an appointment, and register for show discounts.