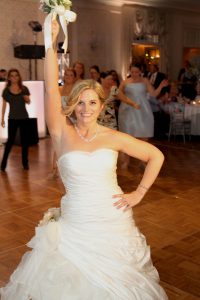 Chrissy and Daniel first met us at an NJ bridal show, and then came to our private engagement party–it was GNE love after that! The Webber's decked out their evening with plenty of lighting and decor: our titanium towers, LED uplighting, and black lights filled the room with fun and dynamic color. Chrissy wanted to also splash the dance floor with an elegant leaf pattern, so we made her a custom filter for our gobo projector.
Emcee Gerry Siracusa was in charge of this wild and fun night at the Meadow Wood Manor! Superheros were a predominate theme with the groomsmen, all of them wearing a hero t-shirt under their tuxedos. The best man dressed up as Batman. And the groom even had an Iron Man cake!
Since the photographer wasn't contracted all night, much like we would for our reel memories package, Gerry went beyond expectations and took photos for most of the reception too, capturing the cake cutting, the garter toss, and the brawl for the bouquet between cousins Stacey and Stephanie (you'll see Stephanie really wanted that bouquet!). She got it the first time by picking  it up off of the floor after Chrissy hit the chandelier.  But since the crowd considered it interference, there was a re-throw and she caught it again by pushing her way through the crowd! Hysterical!
Laughing and dancing and partying all night! It's all we intend to bring when we DJ and light up a wedding, and we're happy we could do it for Chrissy and Daniel–thank you so much for allowing us to entertain you!