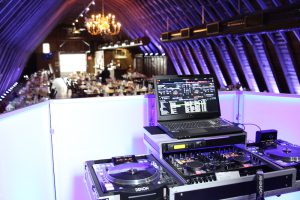 Last weekend, we rocked The Barn at Perona Farms, and this week we rocked it again for Stephanie and Ed's wedding! We have to admit–The Barn is a really awesome, unique space. The vibe is cool, looks fantastic with LED uplighting, and the menu is special and separate from the rest of Perona Farms. Emcee Gerry Siracusa and DJ Bill Delaney were more than excited to spin a ton of Top 40 and Country for Stephanie and Ed–the bride, groom, and guests were dancing all night! We even had the bride and bridesmaids dancing on the stage! And of course, nothing made the evening sweeter than the cake baked by the mother of the bride! Yum!
A HUGE thank you to Stephanie and Ed for allowing us to entertain you on your special day!
We're at Perona Farms a lot, and love it every time. And we suppose they must love us too…now that we're one of their recommended vendors!