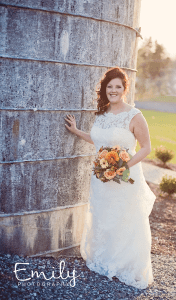 If you've never been to The Barn at Perona Farms, know that it's absolutely one of the most unique and interesting venues in New Jersey. For Evonne & Kenny's wedding, the barn was rockin'! Evonne came to us as the last of four sisters to be married, all of whom had Golden Note Entertainment at their reception!
What started with their outside ceremony in beautiful spring weather, where we set up an outdoor sound system for their guest guitarist and singer, transitioned into an incredible reception inside the barn. Once the bride's father finished his speech, the celebration began! Emcee Jim McBride and DJ Bill Delaney had the dance floor groovin', and it didn't stop until the night was over! Evonne and Kenny even jumped on stage to dance to Come On Eileen!
Thank you to Evonne and Kenny for allowing Golden Note to provide the entertainment for your special day, and allowing the legacy between our families to continue!
The photos here have been provided by Emily Wilson, of Emily Photography.
See more on her website or find her on Facebook.