As one of our pinnacle services, Golden Note proudly trains and consistently sends out highly-skilled DJs for any event. Weddings, sweet 16's, birthdays, anniversaries, corporate events, clubs, bars, lounges—no matter the occasion, theme, or space, our DJs are ready to entertain your crowd. We always show up early with an extensive music library, top of the line equipment, and dressed to impress.
We are one of the few companies that employ full-time, trained and experienced staff. With bilingual MCs fluent in Italian, Spanish, and DJs familiar with every genre, our MC & DJ packages will suit your needs. Our team of MCs can help guide you through your wedding processes, help traffic guests through your event, while a separate DJ keeps the mix alive and energetic. No premixed music or leave-it-to-Spotify DJs here!
If you desire a flair of elegance for your day, we can arrange vocalists, violinists, pianists, harpists, and brass ensembles. If you'd prefer to add some energy and fun, we can arrange bag pipers, mariachi, and percussionists! We only work with trusted and talented performers, and our experience working alongside them guarantees a seriously enhanced and interactive event.
Let us supply your ceremony music and full sound system with speakers and microphones. We can also provide you with an officiant to conduct your on-site ceremony. Set up a meeting with us regarding all of the details of your ceremony, and we'll work tirelessly to cater to your specific religious and non-denominational desires.
LED products, maracas, party fedoras, sunglasses and glow necklaces are just some of our giveaways. Add another level of interactivity and pair these dance floor goodies with our black lights to make your room—and your photos—pop! Imagine seeing your uncle or boss in any of these party favors. You'll remember your event was fun forever!
Allow us to make your ballroom "pop" with excitement!  Imagine ten or more LED lighting fixtures strategically surrounding your room, allowing us to control the color scheme and creating the perfect ambiance that you want.  If you choose, we can change the color of the room to match the bridesmaids' dresses or just make it your favorite color.
Immediately wow your guests as they enter your ballroom to see your wedding monogram in bright lights on the dance floor with one of our Monogram Projectors. We'll customize the design of the monogram for any event with name, date, message, or even a company logo. Ask us about the many ways we can use and display an exciting monogram or logo at your event!
Golden Note's Titanium Towers lighting package is the latest addition to our lightscaping line. This theatrical quality service provides the perfect ambiance and flexibility that intelligent lighting has to offer. It works perfectly with our Reel Memories screen package and LED Uplighting. No matter what your lighting desires are, the Titanium Towers lighting package is your perfect choice.
The lights go dim…the room is dark…and now it is time to party!  Our black light show is an amazing way to make your wedding rise above all others.  The equation is easy  Take a dark room, add our very powerful UV lights, then sprinkle in white gloves and illuminating giveaways.  Our creative MCs will mix these all together and build a unique interactive experience.
With our Reel Memories LED Screen package, you can have your entire event projected right onto 70 inch LED screens! See the fun of your dance floor live in HD from anywhere in your room. We will also produce your "video photo album"—a slideshow set to music—and have a photographer take candid zap shots throughout the evening. Both slideshows play at dinner or dessert, so your guests won't miss a thing.
Do you want to show a video or slideshow presentation, but aren't interested in having LED screens persistently at your event? Consider our Show & Go Projector Screen! Our event technicians will set up a large-format projector screen on-the-fly, allowing you to display anything you'd like, and then break down the screen after the presentation. Setup and breakdown is quick, guaranteeing that the rest of your event will remain uninterrupted.
Your fairytale day won't be complete without first dancing on the clouds.  With our low lying fog system, you can do just that.  This is not a smoke machine, it's a dream machine.  The fog effect does not reach more that 18 inches off the ground.  For a moment you are not on a dance floor, you are floating over the clouds with your husband or wife during your first dance.  This moment that can never happen again, will never be forgotten.  Add the Dancing under the Stars effect and you can turn your event into a dream come true!
Take your party to the next level with our CO2 Party Cannons! Walk into your wedding underneath pillars of colored fog and watch your dance floor explode with excitement when these (literally) cool cannons blast over your guests. Portable and fully-controlled by our technicians, the CO2 Party Cannons are an incredible add-on to any wedding or event.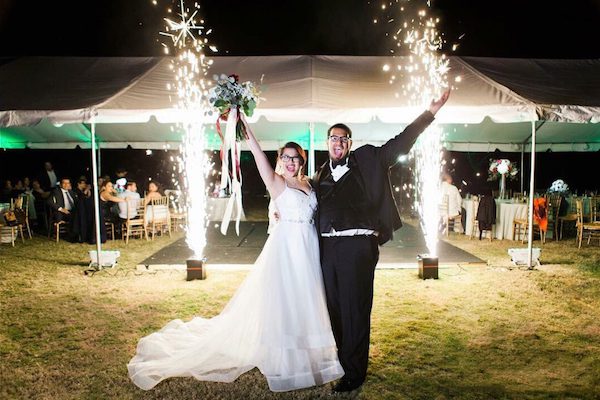 Sparkling Fountains
The newest and most exciting atmospheric effect for weddings and events! These sparkling fountains can highlight your introduction to your wedding or shape an eye-catching display for your event. These fountains are 100% flameless, do not produce heat, by generating a "cold spark" display. Fully portable, safe, and controlled by a technician—a guaranteed hit.
Bubbles? Right now you are thinking, "At a wedding?" Exactly! We can use it for a grand entrance or for your first dance. It's new, it's different and it leaves an impression. They are guaranteed to carry and, using a special formula, do not easily pop. You and your guests will be amazed as these sweet, non-staining, bubbles shower your room.
This fun, compact photo booth is a great way to make your guests a memorable part of your wedding.  Have your guest choose between color or black & white for their pictures. Each photo strip can be customized to your event, making it a great favor!  Are you tired of guest books that just sit on a shelf collecting dust?  Use our scrapbook instead!  We will print an extra copy of each picture, put it into a scrapbook, and each guest can write a message to you, turning it into your own personalized photo guest book.
Who doesn't love to take a #selfie? With our Social Booth, your guests can jump in front of a cool backdrop, take and print photos, and share them on social media. Take full advantage of your wedding hashtag and have your guests put those fun and silly photo booth photos directly on Instagram, Facebook, and Twitter. This booth prints 4″ x 6″ photos, multi-prints, and photo strips.
Custom graphic pictures! Photo Favors are a great way to provide an activity for your guests, while also yielding a favor for them to take home. Our green screen backdrop allows your guests to take a photo in front of the background of their choice. Want a picture in front of the Eiffel Tower or with your favorite movie star? How about having a customized magazine cover on or about your wedding day?  Our custom designed backdrops make the possibilities endless. Packages include 4 x 6″ photos, a custom designed background, and unlimited prints.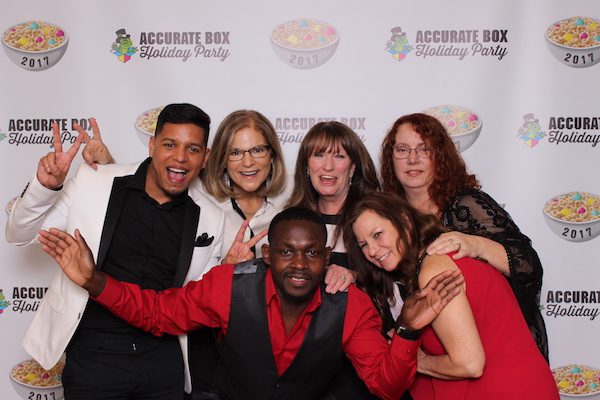 Step & Repeat
A red carpet entrance for your guests will make your event go from great to glamorous. With our Step & Repeat package, you'll be able to give your guests a real star-studded experience, combining one of our photo booths with an enormous custom backdrop ready to display your name or logo. Your guests will receive fun photo strips, and we'll even roll out a real red carpet for them!