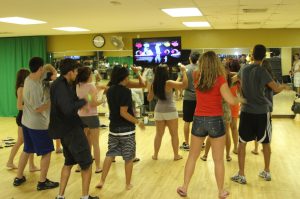 Turn this up! America is moving with Just Dance, the arcade phenomenon of smooth moves comes home to the Nintendo Wii with solid Top 40s hits! This four-player motion controlled game is guaranteed to get a whole crowd dancing. Customize the experience with two picture and sound packages. The first is the 42-inch plasma screen option with 450-watt sound system. The second is the 8-foot rear-projection 900-watt sound system. You can get your friends and neighbors interacting on their feet. Let the pulsating music and colorful graphics excite your senses while you get your dancin' fix with Just Dance!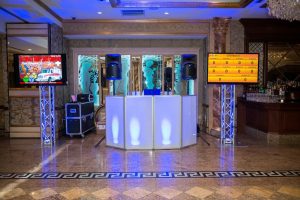 Our Game Show host will ask fun pop culture trivia questions. Your guests will become contestants in a TV-style game show and compete individually or in teams. The game show system consists of a master control center complete with zany sound effects, score keeping, and three to sixteen full-size player position units with a microphone at each player position. This popular package is great for any size group.We provide technical operation, award-winning talent for hosting, and customized shows to suit your event's needs. The fun and excitement of a game show will keep your guests talking for months!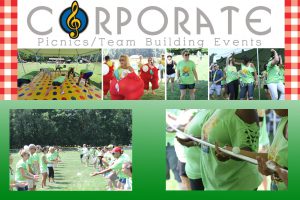 If you're looking for a great way to enhance employee relations and boost morale, this is the answer! We create the ultimate in fun and you benefit through improved productivity. There are many facets to team building, and you can customize the package that suits your needs best. Whether it's a group of 25 or 1000, we have something for all. Ask about our Games Games Games Package, which is set up similar to an Olympic competition and promotes team cooperation and strategy. Our Theme Nights package utilizes a games show approach to promote individual and team competition. Regardless of the theme, creative fun is had by all!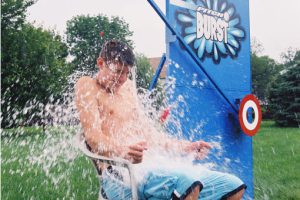 People love to play Pitchburst ® at parties, fundraisers, carnivals, fairs, festivals, and corporate events. It's safe and simple to play – simply pitch a ball, hit the target and -sploosh! – a water balloon bursts overhead. Pitchburst combines the fun of a dunk tank with patented, go-anywhere portability. So unique that it's been called "the 21st century dunking booth" for its fun, simple design, versatility and environmental friendliness.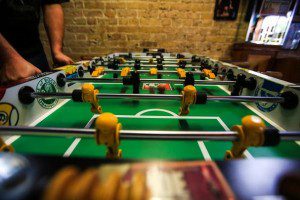 If you are athletic and sports are your thing, check this out. Sports items can play a significant role in your event. Regardless of the level of athletic intensity, Golden Note can provide you with sport related items and activities to make your event perfect. Possibilities include a dunk tank, foosball, air hockey, speed pitch, football, and basketball.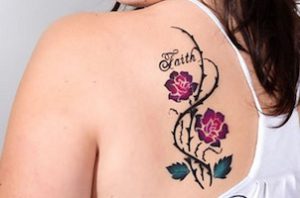 Body art without the commitment. Experience how our skilled tattoo artists can convert ink and tools into a beautiful work of art for you and your guests to enjoy. See how you look with an American Eagle on your arm or a little red devil on your ankle. You can choose to keep it until it wears off or remove it manually.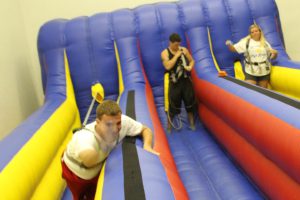 Indoor/Outdoor inflatable amusements are the wave of the future. These mobile attractions lend themselves to any private or public function, and can be used individually or as a part of a themed event. The pictures speak for themselves.
Every wedding needs great music. No matter what, we'll keep your dance floor alive.
Give your event the perfect color. Make your wedding burst with light and energy.
Preserve your favorite moments. Our photo lounges guarantee a party you'll never forget.
Visit Our Live Showcases
See our products. Meet our team. Join our family.